Nylgrass
MONOFILO PER DECESPUGLIATORI
The range of products used passes of 2 sections and related diameters below:
round diameters 1.3 and 1.6 mm for edge trimmers in diameters 2.4 3.0 3.5 4.0 for brushcutters combustion of all displacements
framework in diameters 2.7 3.0 3.3 4.0 Hedge for combustion of all displacements
There are also intermediate diameters and special sections (stellar, pentagonal, twisted wire with aluminum oxide)
The most popular colors are fluorescent (yellow and orange) as well as black, purple, red and gray with aluminum.
The packages range from the skein 15m. with flag in plastic / cardboard to the 35 and 50 m.
The same developments are used for the wire packaged in blister and applies a sticker that shows the characteristics of the product and, on request, the brand logo of the customer who distributes.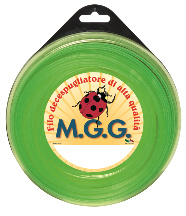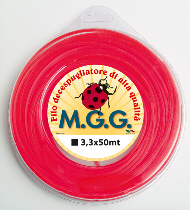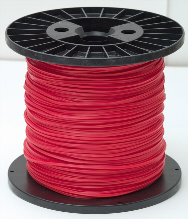 Diametro

sezione

 

sezione

 

sezione

 
 

  tondo

codice

 quadro

codice

    stellare
penta

codice

 

     

 
 
 
 
 

Ø 2,0 mm

    ●

T.2.0

    ■

Q.2.0

    *

S.2.0

Ø 2,4 mm

    ●

T.2.4

    ■

Q.2.4

    *   

S.2.4

Ø 2,7 mm

    ●

T.2.7

    ■

Q.2.7

    * 

S.2.7

Ø 3,0 mm

    ●

T.3.0

    ■

Q.3.0

    *

S.3.0

Ø 3,3 mm

    ●

T.3.3

    ■

Q.3.3

    *

S.3.3

Ø 3,5 mm

    ●

T.3.5

    ■

Q.3.5

    *

S.3.5

Ø 4,0 mm

    ●

T.4.0

    ■

Q.4.0

    *

S.4.0 P.4.0

 
 
 
 
 
 
 

colore

Verde fluo

 

Rosso scuro

 

Nero arancio  oro